"F.S.S.F. Black Devils"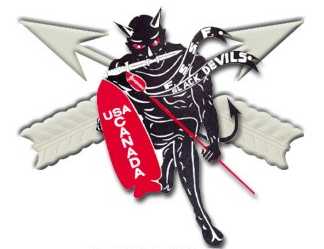 Northeast US, Mid-Atlantic US,
Ontario & Ottawa Sections
Officially Recognized By The First Special Service Force Association

"EVENTS" Page Updated


"FSSF LHG Roster" Updated


"EVENT PHOTOS" Updated


"LINKS" Page Updated


"ACTIVITIES" Page Updated


ITALY TRIP PHOTOS!!!!!

This Site is Best Viewed in a Resolution of 1024 X 768 or Higher

"Vigorous training, hazardous duty." These were the words that lured prospective volunteers to the First Special Service Force, and that promised, for those who measured up, the chance of getting into the war quickly. Unique during World War II, the First Special Service Force evolved as the amalgam of two Armies, Canadian and American, and the men who filled its ranks were among the hand-picked best from throughout North America. Their diverse and intensive training took them from the dust-covered prairies of Montana, to the bitterly-cold peaks of the Great Divide, to the waters of Chesapeake Bay.Their skillfulness, their remarkable esprit de corps, and their legendary endurance saw them through tough combat missions in both the Asiatic-Pacific and the European Theaters of Operation. (1)
It is the mission of the First Special Service Force Living History Group to accurately portray the First Special Service Force, in both its appearance and spirit as it existed during WWII. In doing so we strive to honor the efforts, accomplishments, and sacrifices of that famed unit. Never before had such a contingent of men been assembled! We honor them so as to keep their memory alive.
-FSSFLHG

____________________________
(1)Quoted from Ross, Robert Todd, The SUPERCOMMANDOS First Special Service Force, 1942-1944 An Illustrated History, (Atglen, PA: Schiffer, Publishing Ltd., 2000), P. Inside Front Cover.
Special Thanks to Robert Todd Ross
Site Last Updated 3/07/06
As of 5/21/01
Warning: Any unauthorized duplication is a violation of applicable laws.